Campaña. 30 médicos extranjeros operarán a pacientes con labio leporino y paladar hendido.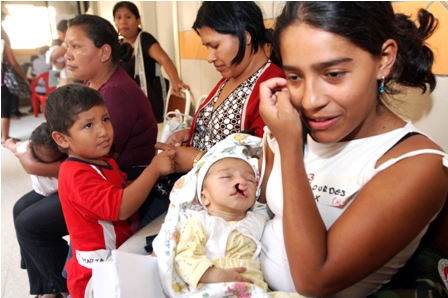 Ref. Fotografia: Solidaridad. Por sexto año consecutivo se realizará este programa.
Por sexto año consecutivo el Rotary Club Sirari, en alianza con ProSalud y la Fundación estadounidense Healing The Children, realizan la campaña de cirugías gratuitas de pacientes con labio leporino y paladar hendido.
Tiempos. Según Guillermo Molina, presidente del Comité de Proyectos del Rotary, la preselección de los beneficiados se realizará este sábado 9 de diciembre en la clínica ProSalud "Dr. Ismael Suárez", en el segundo anillo, diagonal al Parque Urbano.
"Este sábado vamos a realizar el registro y la evaluación de los pacientes que sufren estos casos y luego, del 28 al 2 de febrero del 2018 se realizarán las 60 cirugías", explicó.
Apoyo. Molina también informó que en enero, para realizar las cirugías, llegarán 30 médicos especialistas de la Fundación Healing The Children. 
"La Fundación colabora con los médicos y especialistas que llegan para realizar este trabajo, por su parte ProSalud da sus instalaciones y recursos humanos para acompañar el proceso y nosotros como Rotary nos encargamos de temas logísticos y de difusión", manifestó Molina.
Agregó además, que cada día se realizarán 12 operaciones en simultáneo por tres equipos.
Entre tanto, Luis Fernández, Director Ejecutivo de ProSalud, destacó la campaña y señaló que una cirugía de labio leporino llega a costar unos mil a dos mil dólares, en este caso, gracias a la campaña, se las realizarán de forma gratuita. Según datos de la organización, en Santa Cruz, de cada mil neonatos, uno sufre de paladar hendido o labio leporino.
"Llegarán cirujanos especialistas y foniatras, por eso esperamos que quienes requieran las cirugías se puedan beneficiar", dijo Luis Fernández.
Cristhian F. C. Vara This email address is being protected from spambots. You need JavaScript enabled to view it.
Read more http://www.eldia.com.bo/index.php?cat=1&pla=3&id_articulo=240642